Background
Thales Group assists in the design and implementation of secure and non-secure card-based fulfillment programs for many of the leading organizations in the insurance, finance, and loyalty-related services industries.
The privately held, Atlanta-based company uses its Visa and MasterCard-certified facility for magnetic stripe encoding, embossing, high-resolution printing, card carrier production, and more.
In addition, Thales Group helps companies manage their mailing by automating tasks such as forms and statement printing, envelope insertion metering, and mailing.
Challenge
Thales Group needed an inventory management system with a high level of customization that could also meet the high volume demands of their business.
Since their clients, some of the largest companies in the financial services and healthcare industries must adhere to strict security measures, Thales Group needed an application that could account for every single card in their facility.
Thales Group's unique situation required a solution that could handle high volume and high customization.
Solution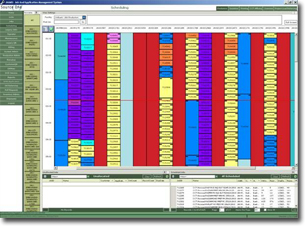 TwinEngines leveraged their manufacturing visibility toolkit, based on ten plus year worth of experience and development, to create the Job and Application Management System (JAAMS). JAAMS is designed to help Thales Group with manufacturing activities such as job tracking, prioritization, and scheduling, as well as inventory control. Importantly, from a cost perspective, the framework easily integrates with Source One Direct's existing infrastructure.
Utilizing a clean, intuitive user interface, JAAMS can configure and run a job process from beginning to end, tracking almost everything along the way
JAAMS effectively and efficiently integrates scheduling and inventory management with the manufacturing process. For example, quality assurance work is completed on a client terminal. QA can be performed and rework submitted and scheduled directly from the terminal.
JAAMS simplifies job scheduling while helping ensure that high priority jobs get through the manufacturing process first. For instance, a company can set different priorities for imprinting cards, shipping, and quality assurance. JAAMS computes these priorities and then assigns the job to an appropriate job block.
Data collection no longer depends on individuals filling out forms. Workers can use a wireless handheld device when taking inventory.
Comprehensive inventory management tools deliver notification if any raw materials within the manufacturing process reach a reorder point. This provides stimulus for discovering cost-effective solutions to apply to the shop floor.
TECHNOLOGY
C# .net
VB .net
UWP
Windows Forms
WPF
MVC
MS Visual Studio
SQL Server
The discrete manufacturer needed a high-volume job and inventory management solution that could scale with their growth plans.
Priorities included a high level of customization and security and easy integration into their existing technology infrastructure.
Discuss your operational goals with a digital transformation consultant.